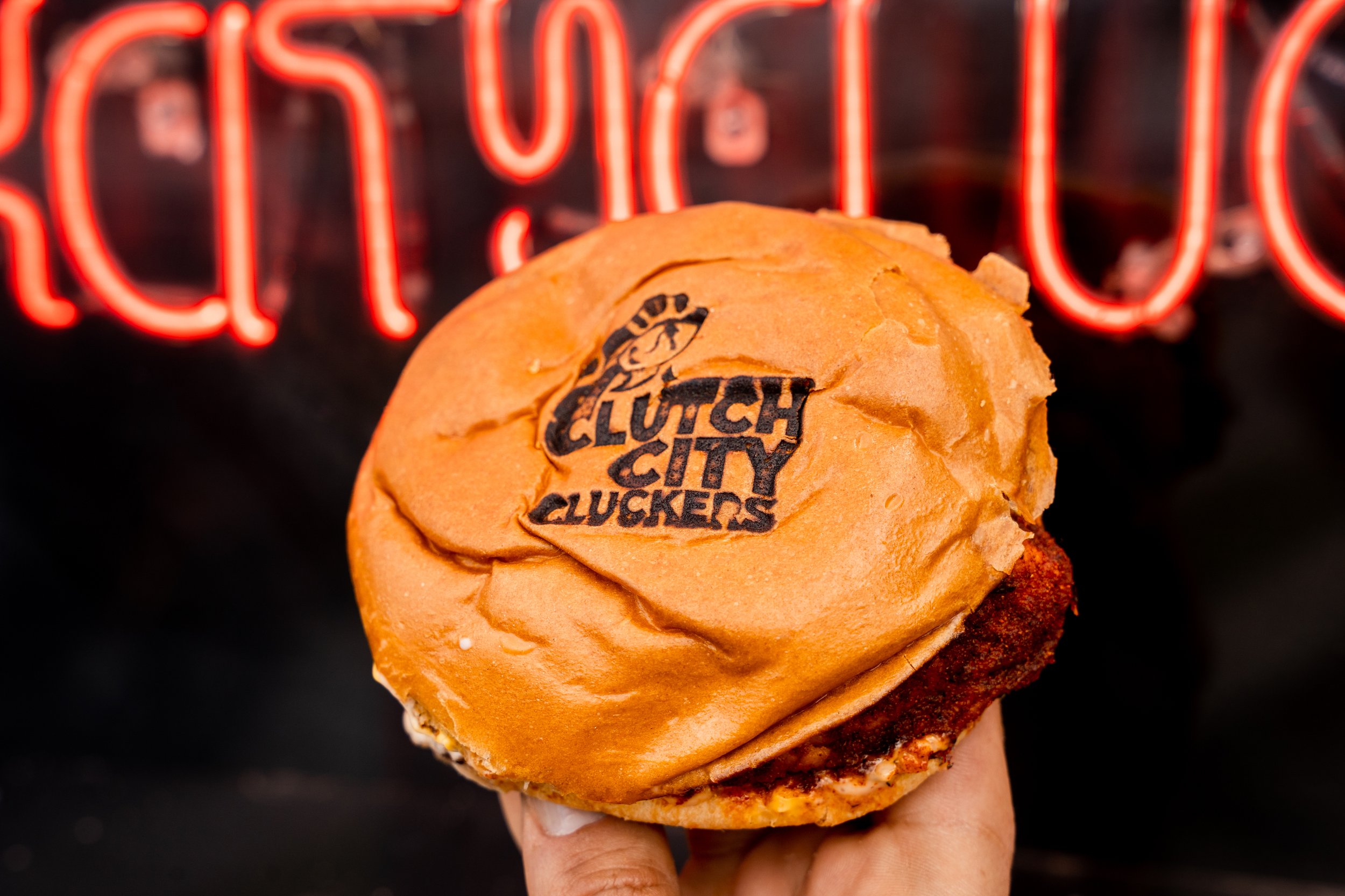 01 Apr

Clutch City Cluckers One Year Case Study
About Clutch City Cluckers
Clutch City Cluckers is a Houston based food truck specializing in Nashville style hot chicken served up in a variety of ways. The truck is owned by Ahmad Clutch City Kilani, a native of Irbid, Jordan, who immigrated to the United States in 2015 to continue his education and obtain a Masters Degree. While attending school as a full time student, Kilani also worked at Houston's first Halal food truck. It is here that Kilani began to shape his vision and career in the food industry.
Now, just a year from their grand opening, Clutch City Cluckers has expanded to three locations with a fourth and fifth on the way, the latter expanding abroad via franchising in Ahmad, Jordan.
Clutch City Cluckers
www.clutchcitycluckers.com
Facebook, Instagram, Twitter
---
Project
Clutch City Cluckers first engaged Embark Marketing in January of 2021 to develop a grand opening campaign for their first location at 5550 Val Verde St., Houston, TX 77056.
The client was also eager to incorporate high quality, high ROI ads targeting the Houston area in order to build buzz leading up to the grand opening.
Long term goals included:
Widespread Brand Awareness

"Viral" Social Media Post

Large Instagram Following

Expansion Through Franchising
---
Social Media Marketing
Embark Marketing began focusing on three social media platforms for Clutch City Cluckers: Facebook, Instagram, and Twitter.
We felt that these platforms would be the most beneficial in order to reach the desired audience. Clutch City Cluckers expressed a few goals one of which being cultivating a large number of followers on social media, specifically Instagram. The others included building brand awareness in the Houston community and setting themselves apart from the many other hot chicken vendors in the greater Houston area.
Content & Posting
In order to gather the most engagement possible for Clutch City Cluckers, Embark Marketing conducted internal research to determine which type of post garnered the greatest engagement. After reviewing and comparing content the conclusion was made that Carousel Posts and Videos drew significantly more engagement than any other style of posts.
Additionally, an emphasis was given to quality post over the quantity of post. Thus post were scheduled to run every other day across each platform.
Content focused specifically on high quality photos and videos. Each post was given significant weight meaning that it was to be specific in its intention. Each post was a designated "swipe" post that generally included 2-4 photos.
Videos, were provided by a 3rd party source and strategically posted at specific times and days, or were used to promote specific events. The song choice was a crucial point in each video as the music needed to match the overall vibe of the brand and be current enough to catch the ear of potential followers.
Ad Strategy
In order to accomplish the set goal of quickly increasing brand awareness and growing a large following on Instagram, Embark Marketing implemented an aggressive strategy of support each and every post with ad dollars. Through short ad durations and location based targeting Emark Marketing was able to distribute Clutch City Cluckers content to 50,000 to 100,000 Instagram user per post.
---
Results
Instagram
Over the past year year Clutch City Cluckers has amassed over 50,000 followers.
Clutch City Cluckers supported their content with a strong ad budget that helped their high quality photo and videos reach new consumers who converted into followers.
Overall Success
It's one thing to invest in the physical aspects of your business like products and labor, but Clutch City Cluckers is a prime example of what can happen when a business invests in their digital presence. From one location and a few hundred followers to four locations, franchise opportunities and over 50,000 Instagram followers. It's safe to say that Clutch City Cluckers has now set their goals on world domination and Embark Marketing is buckled up for the ride.
Ready to start your digital marketing journey?