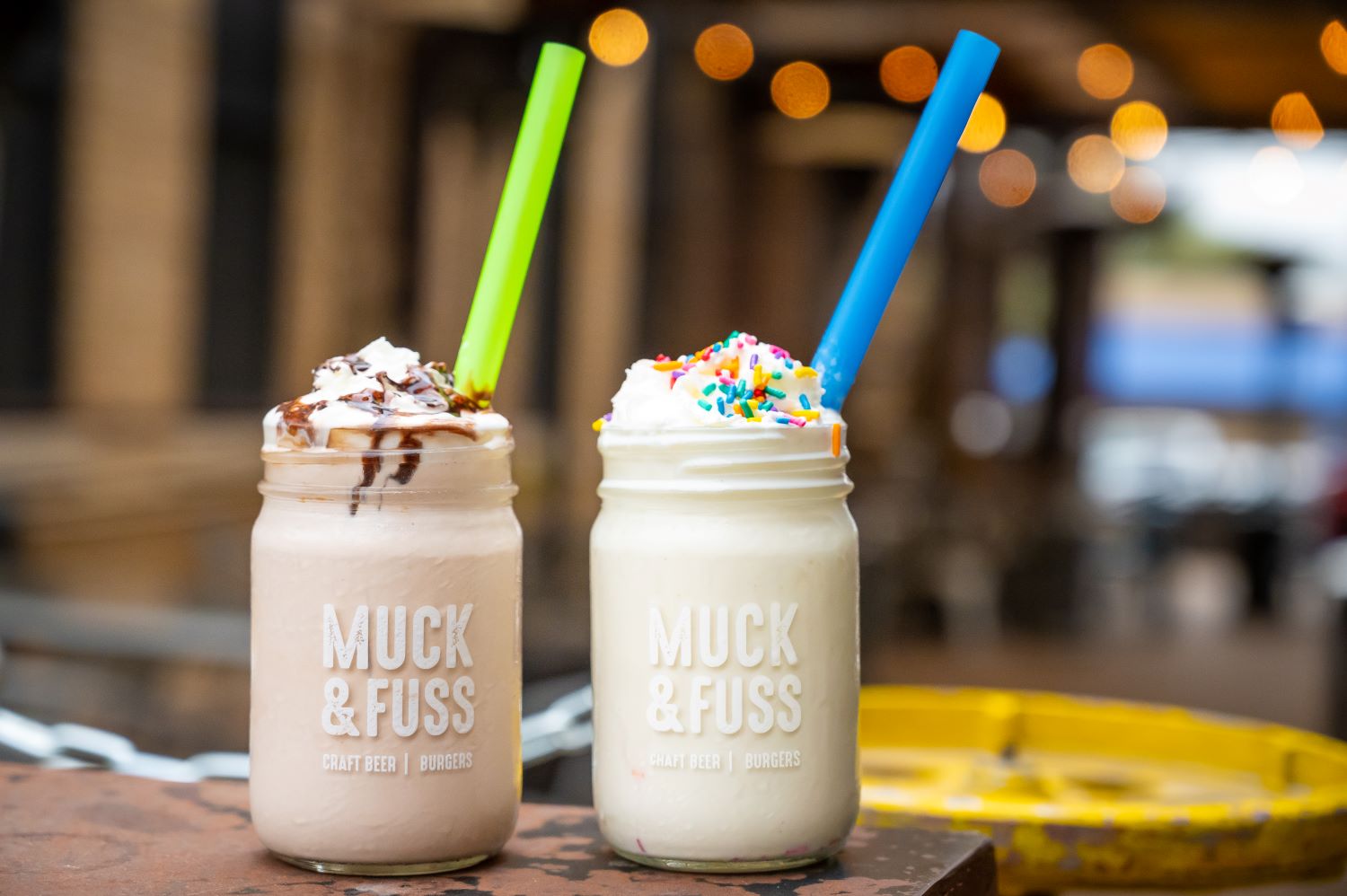 01 Oct

Muck & Fuss Two Year Case Study
About Muck & Fuss
Muck & Fuss, located in the heart of the downtown district of New Braunfels, is a locally owned and operated restaurant with a chef-inspired menu. Owners Terry and Celina Muckenfuss have revitalized the historic Prince Solms Inn property, with a basement cocktail bar, Sidecar, and situated next door, the unique craft beer and burger restaurant. For more information about Muck & Fuss, check out their website and social media links provided below.
Muck & Fuss
295 E San Antonio St.
New Braunfels, TX 78130
(830) 255-7055
https://www.muckandfuss.com
Facebook, Instagram, Twitter
Project
Muck & Fuss first engaged Embark Marketing in October of 2018 to develop a WordPress website & engage the local community for the grand opening of their business.
Embark Marketing took this opportunity to encourage the client to create a striking website that supported the guest experience, as well as engage in social media marketing and public relations to help increase brand awareness for the Grand Opening.
Now, in October of 2020 Muck & Fuss will celebrate their two year anniversary, and two year relationship with Embark Marketing.
Website Development
When developing Muck & Fuss's WordPress website, the client desired a responsive website that provided a clean look that was user friendly, mobile compatible & SEO enriched.
Since creation, Muck & Fuss has been able to capture more organic traffic, generated through web browsers such as Google, Bing, Yahoo, etc.
In addition to creating the site, Embark Marketing has also assisted Muck & Fuss in maintaining the site by providing updates and new capabilities that develop as the business grows.
Social Media Marketing
Embark Marketing focused on three social media platforms for Muck and Fuss: Facebook, Instagram, and Twitter. We felt that these platforms would be the most beneficial in order to reach the desired audience. The goal of Muck & Fuss's social media was to build and maintain brand awareness, while promoting upcoming specials and events. Below you can see our overall improvements and engagement of Muck & Fuss social media.
Facebook:
Over the past two years Facebook page likes accumulated to 12,175 users.
What does this mean? Increasing likes on a Facebook page helps with overall marketing by being able to expose your content to a targeted audience. It validates that the posts are being seen, it shows loyalty to the business, and it can show the improvement of the business.
Charts: This chart help with the visual representation of the Facebook account over the past two years.
Instagram:
Over the past two years Instagram followers increased to 10,281 users.

What does this mean? Increasing followers on a Instagram helps with overall marketing by being able to expose your content to a targeted audience. It validates that the posts are being seen, it shows loyalty to the business, and it can show the improvement of the business.
Charts:These charts help with the visualization of Instagram accounts.
Twitter:
Over the past two years Twitter followers increased to 614 followers.
Review Management:
Part of Muck & Fuss social media strategy included reputation management across platforms such as Google, Yelp, Facebook & Trip Advisor.
Muck & Fuss wanted to be one of the top restaurants on these review sites for their area and maintain a high star rating. Therefore, provided review management of all platforms, responding to customer concerns in a immediate and specific way. In addition to responding to reviews, we encouraged customers to review Muck & Fuss on review platforms via social media promotion.
Since opening, Muck & Fuss has received 441 Yelp reviews with an average 4.5 stars and currently rank #1 on Top Restaurants (New Braunfels). On Google they currently have 1,210 reviews with a 4.5 star average. On Facebook they have received 572 reviews with a 4.9/5 rating. Lastly, Trip Advisor has nearly 176 reviews and a 4.5 star rating, ranking them #2 of #190 restaurants in New Braunfels.
Public Relations:
Embark Marketing utilized a regional public relations approach to help promote and create an aware audience for Muck & Fuss. Over the past two years, Muck & Fuss's public relations has grown substantially. Making Muck & Fuss a household name in New Braunfels and the surrounding area.
The results of the public relations are evident in the many articles published, and statistics from social media that are directly linked with PR articles.
We achieved 40+ articles across 15+ Texas publications.
Why is Public Relations important? Public relations is what drives more people organically to your brand. Therefore, without PR the traffic to the business' site and social media sites would decrease tremendously.
Email Marketing
Through the website development process, Embark Marketing recommended implementing a long-term email marketing strategy. Upon approval of the client, we implemented an email marketing program to stay engaged with new and interested customers.
We encouraged customer to sign up for a birthday club email list. By implementing this strategy we collected emails and grew their database. As a result of this an increase in both subscribers and in-store sales occurred.
In 2 years we achieved nearly 3,000 new users subscribers.
Sales Analysis
The venue at Muck & Fuss offers both seating indoors & outdoors, with outdoor seating attributing to nearly half of their total seating. Therefore, the business at Muck & Fuss is largely impacted by weather. After their Grand Opening in late October 2018 they saw a 39% increase in sales the following month. They did experience a decrease in sales during the winter months as expected, however the impact was less than anticipated due to high brand awareness on social media. In the month of March 2018 alone, Muck & Fuss saw a 48% increase in sales. We attributed this enormous increase in sales to the warmer weather.
This trend has continued with time as Muck & Fuss benefits from the tourist flow attached to the Comal and Guadalupe River. However, their strong brand awareness has allowed them to capture sales even in what would typically be "down" seasons.
The marketing journey with Muck & Fuss over the last two years has been both exciting & successful. We continue to work with this client to increase brand awareness & sales through social media management, email marketing, public relations & more!
To learn more about Embark Marketing
& what we can do for your business, click below!