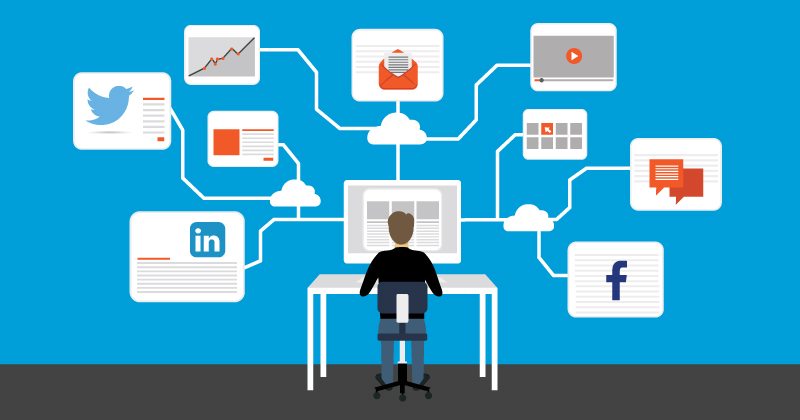 01 Sep

How to understand Social Media Algorithms

Remember the good old days where you would go online and see everything, everyone posted. You would see every post from that Facebook page you liked and every tweet from your favorite twitter account. Fast forward to now you will notice you don't see everything everyone posted. Instead you just see the most popular post. That is social media algorithms at work.
What exactly are Social Media Algorithms?
Social Media Algorithms are a way of going through all the post on a user's feed and sorting them to show the user the most popular and relevant ones to them. This makes it so that when you go Facebook, Twitter, Instagram or any other social media platform the user will see a post they will most likely like. This algorithm will show you new and fresh post only from the accounts you engage with the most, and that have the most engagement. Lots of consumers like this because then their news feed isn't flooded with nonsense they don't want to see, but from a marketers point of view, this can prove difficult. Now more than ever, it is important to make sure your content is unique in order to create great engagement all the time.
Social Media Algorithms are very important to every brand. This is the game you need to play and understand to make sure you are optimizing your social media accounts. As a business account, you have to make sure all your content is seen by doing what the algorithm wants. This is good for a brand because it will make sure you are always posting good content. This is bad though because if you post one bad post it will mess with your algorithm. The social media platform will notice that and think that users don't want to see your content.
Now that you understand what the algorithm is, in general, let's talk about the how different social media platforms set up their algorithms.
Facebook Algorithm
Facebook is always looking into what a user is liking, sharing, commenting on, and posting on their site. They do this for a reason. Users want to see a post they will most likely engage with, so Facebook's algorithm makes sure of that. This algorithm looks into the interaction a post gets from all its users. If this program notices that a particular page's post on their special gets good feedback then Facebook will show it to more people and even ones who aren't "friends" of that page. On occasion you even get likes from people who don't even follow you because Facebook. Time and popularity are also two big factors. You can post early in the day but still gets likes the next day. Facebook knows when a post is popular and will continue to show it to more people as long as it is retaining engagement.
Instagram Algorithm
Instagram may be owned by Facebook but their algorithm is set up to cater to the specific platform. This algorithm looks at how relevant a certain post will be to a certain user. It also considers how much time a user spends on certain accounts and hashtags. For example, if James looks at a lot of car accounts and looks at all the top car hashtags Instagram, the algorithm will tailor his timeline to show mostly car related content. Instagram looks into how much engagement a post gets as well. This includes likes, shares, and comments made. If a post gets lots of engagement quickly, then Instagram will show that post to more people over the next few hours. Instagram is smart though and will look at who is liking these post too. If Instagram sees mostly spam accounts are liking and commenting then your post will go down on the algorithm.
Twitter Algorithm
Twitter notices how each of its users engage with who they are following. If a user is always retweeting, replying, and liking someone's tweet then Twitter will show that account's tweet first in the timeline. Here's an example, say Jessica follows NPR's twitter. She always likes all their post and retweets often. She replies to tweets by them, takes their polls, shares content from them. Twitter notices this and then makes sure that every time Jessica gets on Twitter she sees NPR's tweets first, no matter what time they were posted. Twitter's algorithm is all about building a relationship with your followers. As a brand for Twitter, you need to make sure you post content people will engage with. Twitter's main factor in its algorithm just like Facebook and Instagram is engagement.
How to help the algorithm
Now how can you help the algorithm to make sure your content is shown to your followers? Here are five few hot tips to get you started…
Go live to build a community – When you go live, it builds a sense of community with your users. Even if they don't watch while you are live, they can still watch after. This is where you will get most of your engagement.
Ask your users questions – When making a post ask users something that will make them reply to that post. This will build up your algorithm. Social Media platforms will see all these users responding to you and then show this post to more people.
Tag your users and others even – When you tag your followers they will get a notification about that, which guarantees a like. Even when you tag other brands their customers will see it too which will help you.
Ask users to turn on post notifications – Users now have an option to turn on notifications for certain people. Ask your followers/friends to turn that on. This will send these users a notification every time you post something.
Make sure content is "engageable" – Make your content something people want to see and engage in. This takes a lot of trial and error to see what your users want from you, but once you find out what works you'll get a great outcome.
Social Media Algorithms are complex, and sometimes hard to understand. Here at Embark Marketing we pride ourselves in staying up to date with all the trends across social media platforms! We know how to make sure your business account gets the most out of your social media. Call us today to inquire how we can help with your business's social media management.