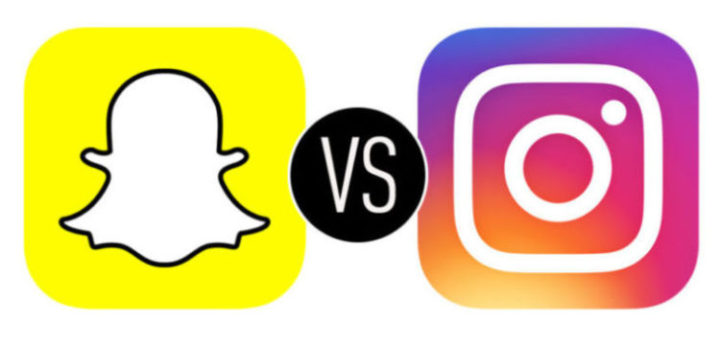 21 Dec

Team Instagram or Team Snapchat? Who Will Win?

The war continues. Instagram just rolled out a new update and Snapchat quickly followed by releasing their latest features a week later. Coincidence? I think not.

Snapchat is built around the concept of sending embarrassing photos or videos to your friends with the guarantee that no one will remember in 24 hours. These are called "snaps." Now, so does Instagram. Their "stories" update has gotten people at Snapchat shaking in their boots. But don't worry Snapchatters because you still have those adorable filters that we absolutely love. Users did say that if Insta were to get filters then they just might delete Snapchat all together. But until then… Point goes to Snapchat. 

Instagram's goal is to create a "welcoming and safe place for everyone," while Snapchat has been tailored for the under 25 crowd. Instagram has become a multi-generation social platform since now you can share stories, message with your friends, edit your public posts, comment on others photos and now even like them. How nice of you Insta! Point goes to Instagram. 

Now, don't count Snapchat out just yet. They are smart and know that Insta might just let you be a puppy on their stories too so what did they do? Custom stickers. Now you can snap pictures, or selfies, and turn yourself or something else into an actual sticker. You can use this on your future snaps. Cool! Or weird? We have been having too much fun with it to decide. Point goes to Snapchat.

UPDATE: INSTAGRAM JUST RELEASED STICKERS! Though the stickers are not custom like on Snapchat. They still have stickers. You can post your location, time, weather and emoji's onto your story! Hold up, Instagram still doesn't have bitmoji's. So, JK. Point back to Snapchat. 

Snapchat may have won the filter battle, but the war is still on! Have you ever gone through your Insta feed, saw a cute pic and then wanted to show your friend later? Then you realized you were scrolling too fast and don't remember who posted it!? Yea, that annoys us too. Now you can "bookmark" your favorite posts and it saves it where only your eyes can see. You will never utter the words, "Oh man I can't find it" again. Point goes to Instagram. 

We thank the tech gods every day for allowing us to send messages to our friends in group texts and now Snapchat lets you send snaps to different groups too! You don't have to scroll and search for individual snappers anymore. Just create a group! Even though you could already do this on Instagram, the filters on Snap are much more fun to send. But real recognizes real and we respect that Insta came up with this idea first so…point to Instagram. 

Oh, another thing. Instagram now lets you go LIVE. Yes, you can go live with your followers just like Facebook. The only difference is that once you go live you can't go back. Facebook lets you save the video so others can see what you did later but Insta stays in true Snapchat form and deletes it. Your followers can comment on your story while filming your live segment. We had a debate in the office about this one…the point goes to Instagram. 

After tallying up the score it looks the winner is INSTAGRAM! Congrats! You have won the war for 2016! Can't wait to see what bounce back Snapchat has in 2017.