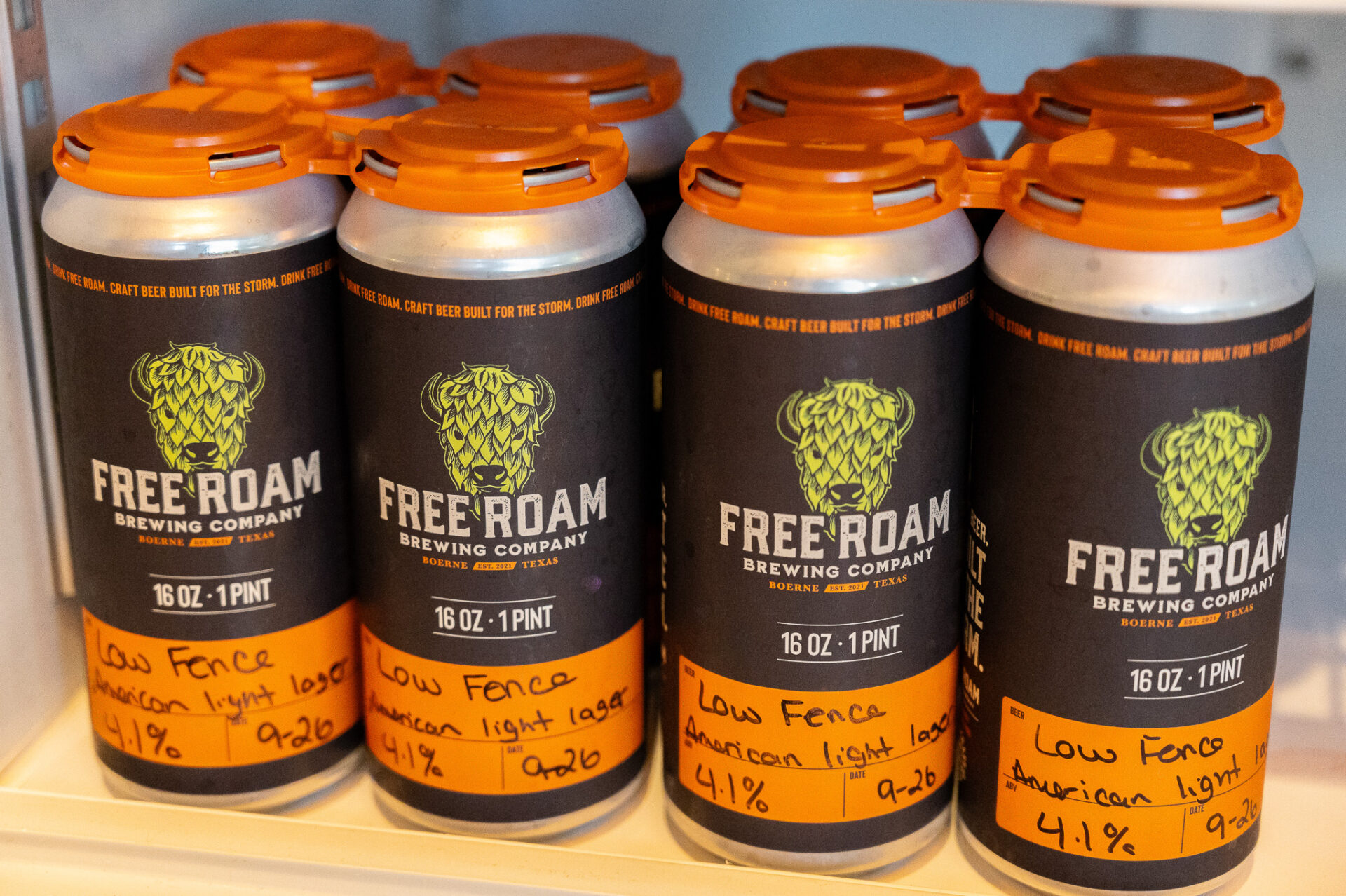 01 Nov

Free Roam Brewing 2023 Annual Case Study
About Free Roam Brewing
Located in the heart of downtown Boerne, TX, Free Roam Brewing Company is a locally owned & operated brewery. Opened in March 2022 by former professional baseball player, Jeremy Affeldt along with his two business partners & friends, Brandon Phillips & brewmaster, Jaron Shepherd. For more information about Free Roam Brewing, please view their website and social media links provided below.
Free Roam Brewing Co.
325 S Main Street
Boerne, TX 78006
(830) 582-9741
https://www.freeroambrewing.com/
Facebook, Instagram, Twitter, TikTok
Project
Free Roam Brewing Company approached Embark Marketing in May 2022, shortly after they opened early March. Their primary objective was to enhance brand recognition and aspire to become a preferred destination for both new and returning patrons visiting Boerne. Following our initial consultation with the client, it was established that adopting an integrated communications approach was essential. This comprehensive strategy encompassed the development and execution of strategies, content creation, social media management, advertising, public relations and email marketing.
Strategy
To rejuvenate the brand's social media presence, we recognized the significance of delineating the brand's visual identity, voice, tone, and overall ambiance. Subsequently, we placed significant emphasis on the creation of fresh and engaging content, employing professional photography and videography that harmonized seamlessly with the brand's established identity. Additionally, we executed a digital advertising strategy on Facebook and Instagram to bolster brand awareness and promote special events.
Social Media Management
Strategy
In order to redefine the brewery's social media platforms, Embark Marketing aimed to focus on two social platforms: Facebook & Instagram. Both platforms are beneficial to reach their desired audience in the small town, but also increase their awareness with surrounding cities. It was important to identify the brand's look & voice while prioritizing new engaging content by incorporating professional photography & videography. Additionally, we established a digital ad strategy on all social media platforms to generate brand awareness and promote all events. 
Content Creation
As social media continues to change & new internal research determined, Embark Marketing settled on utilizing both photo & video content that would best fit to promote the ambiance & the cold refreshing beer. Although videography continues to dominate all social media platforms, a major factor in the content was the events hosted by Free Roam Brewing Company such as live music, The Purple Heart Project, Men's Night, and more. 
Prior to working with Embark Marketing, Free Roam Brewing Company posted more organic content, especially throughout their building process and any participation in local events. Although it did perform well with local patrons, the platforms stagnated once the brewery opened. Therefore, once the new strategy was developed an increase in both engagement and followers was shown on all social platforms. 
Social Media
Embark Marketing's focus for Free Roam Brewing was to increase overall brand awareness & gain more followers/page likes on both Facebook & Instagram. Below you can see our overall improvements & engagements of the local brewery's social media.
INSTAGRAM
From May 2022 – May 2023, the Instagram followers increased by 3,193 users which is an increase of 139.7% from the year prior. Its engagements increased tremendously with a reach of 38,893 which increased from the previous year by 85.3%. Along with its impressions with a reach of 1,930,362 increasing by 342.8% from the previous year.
What does this mean? With the increase in followers on Instagram, evidence shows that the business continued to gain support from local beer lovers & tourists as we continued to provide engaging content with the increase in posting frequency. 
​​FACEBOOK
Over the past year, Free Roam Brewing's Facebook page grew by 2,448 likes.
What does this mean? An increase in followers on Instagram contributed to Free Roam Brewing Company's growth by showing loyalty to the business from previous and new patrons, users are engaging with the content that's being posted frequently, and it has shown improvement overall in the business.
X (Formerly known as, Twitter) 
While we did not put a focus on X, we did organically post to the platform when posting to other platforms for SEO purposes. In the last year, Free Roam Brewing's Twitter followers increased by 53 followers.
TIKTOK
While we did not initially plan to implement a TikTok strategy, the rise of the platform's popularity encouraged us to create an account for the brand. Beginning in July 2022, we began posting 1-2 times per week based on video content developed. Free Roam has increased in followers by 99 users with 247 likes. On average each video receives over 200 views. Specifically looking at posts from February 2022 – October 2022. Below you can see which posts performed the best. 
Reputation Management
In the food & beverage industry it's important to preserve a brand's online presence on review platforms like Yelp, Google for Business and Facebook. Over 94% of restaurant patrons conduct online research on restaurant reviews before deciding to make a purchase. This aspect plays a crucial role in determining a brand's SEO ranking.
With Free Roam Brewing being in a small town in the Hill Country, it occasionally gets a handful of reviews a week. Embark Marketing actively responds to both the positive and negative reviews in a timely manner in an effort to maintain a positive customer sentiment online. As of May 2023, the establishment maintains a great standing with 5 stars on Facebook, 4.4 stars on Yelp, and a 4.7 rating on Google.
Public Relations
Based on Free Roam Brewery's goals, we saw a local public relations strategy as an opportunity to increase foot traffic to the brewery, highlight the brewery's give-back community efforts & increase awareness of their craft beer product.
One of Free Roam Brewery's main goals was to drive guests to the physical brewery through special events throughout the year. Together we brainstormed & implemented all types of event campaigns from a Father's Day Pint Night, a Women's Equality Market, free yoga classes weekly, a Cinco de Mayo Paint Night, a free monthly comedy night & so much more. For all of these events, we sent a press release to local news media outlets throughout the Boerne & San Antonio region, which resulted in over 10+ articles & news segments across 7 publications.
We also received press for our give back community efforts such as Free Roam Brewing's Ukraine Fundraiser & Uvalde Fundraiser. As well as press for the brewery during National IPA Day & their participation in the Texas Craft Brewers Festival.
Email Marketing
The client already possessed an existing email database of over 40 contacts but had yet to formulate a strategy to harness its potential. We devised and executed an email marketing strategy for the client, involving the delivery of one email per month containing information about upcoming promotions, specials and/or events for the general audience & a special club led by Affeldt called 41 Club. This club was allotted early beer releases & allowed entry for quarterly events. This approach enabled Free Roam Brewing to maintain active engagement with interested customers and extended invitations for them to revisit the brewery.
Additionally, we actively encouraged more customers to join the email list through targeted social media campaigns. Throughout the implementation of this strategy, we witnessed significant growth in Free Roam Brewing's email database. As a direct result, there was a notable increase in both the number of subscribers and in-store sales with over $746 from the emails alone.
Want to see what Embark Marketing can do for your food and beverage business, restaurant, or bar? Contact us today for a free consultation and assessment