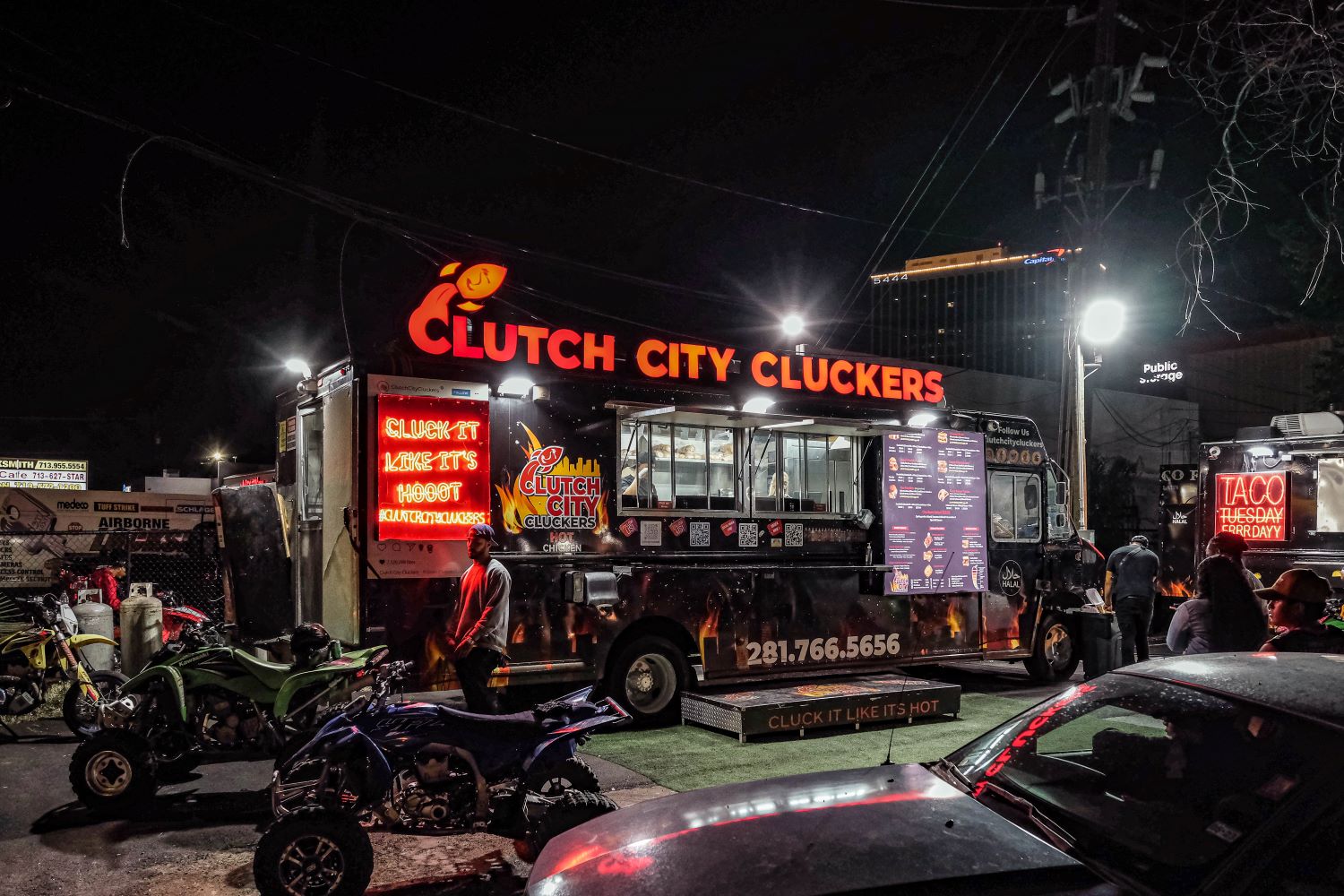 01 Oct

CLUTCH CITY CLUCKERS TWO & HALF YEAR CASE STUDY
ABOUT CLUTCH CITY CLUCKERS
Clutch City Cluckers is a Houston based food truck specializing in Nashville style hot chicken served up in a variety of ways. The truck is owned by Ahmad Clutch City Kilani, a native of Irbid, Jordan, who immigrated to the United States in 2015 to continue his education and obtain a Masters Degree. While attending school as a full time student, Kilani also worked at Houston's first Halal food truck. It is here that Kilani began to shape his vision and career in the food industry.
Now, 2.5 years after our assistance with the opening of their first location's grand opening, Clutch City Cluckers has expanded to eight locations throughout Texas, and one international franchise location abroad in Ahmad, Jordan.
Clutch City Cluckers
www.clutchcitycluckers.com
Facebook | Twitter | Instagram | Tiktok
PROJECT
Clutch City Cluckers first engaged Embark Marketing in January of 2021 to develop a grand opening campaign for their first location at 5550 Val Verde St., Houston, TX 77056. Upon a successful grand opening campaign, the brand approached our agency about full-service marketing services.
In an effort to help the brand achieve success, we performed an in-depth audit of the market & viability of the concept. We determined based on market research of the Houston & San Antonio areas, where Clutch City Cluckers first set their sites on, that the concept would likely perform well due to the nature of each city's overall demographics, popular food scene, as well as the rise in the "hot chicken" trend. We also performed a discovery session with the client to develop short & long term goals for the brand. In the short term, the brand's goal was to open 3-4 locations per year. In the long term, Clutch City Cluckers wanted to create widespread brand awareness throughout Texas, strategy & execute content on social media that produced "virial" attention, grow the brand's Instagram presence to 50K+, and ultimately expand through franchising.

Over the past 2.5 years, Embark Marketing has provided full service marketing strategy & management for the brand. In this case study we will evaluate the services provided, along with the analytical results achieved during this wim.

MARKETING TACTICS
Restaurant Marketing Consulting
Once we had researched the markets we were entering, and helped the client identify goals in which to measure success, we got to work developing an annual marketing strategy. This strategy utilized an integrated marketing approach to help in achieving widespread brand awareness throughout Texas. This strategy was updated each year, based on what we learned the previous year in an effort to continue growing. Our strategy included the utilization of marketing tactics such as:
Restaurant Marketing Strategy
Social Media Management
Content Creation Strategy
Meta Advertising
Reputation Management
Public Relations
Influencer Marketing
Media Buying
Website Development & Website Maintenance
Social Media Management

Embark Marketing focused on four social media platforms for Clutch City Cluckers: Facebook, Instagram, Twitter & TikTok.
We felt that these platforms would be the most beneficial in order to reach the desired audience. Clutch City Cluckers expressed a few goals, one of which being cultivating a large number of followers on social media, specifically Instagram. The others included building brand awareness in the Houston & San Antonio community and setting themselves apart from the many other hot chicken vendors.
Content Creation Strategy
In order to gather the most engagement possible for Clutch City Cluckers, Embark Marketing conducted internal research to determine which type of post garnered the greatest engagement. After reviewing and comparing content the conclusion was made that Carousel Posts and Videos drew significantly more engagement than any other style of posts.
Additionally, emphasis was given to quality posts over the quantity of posts. Thus posts were scheduled to run every other day across each platform.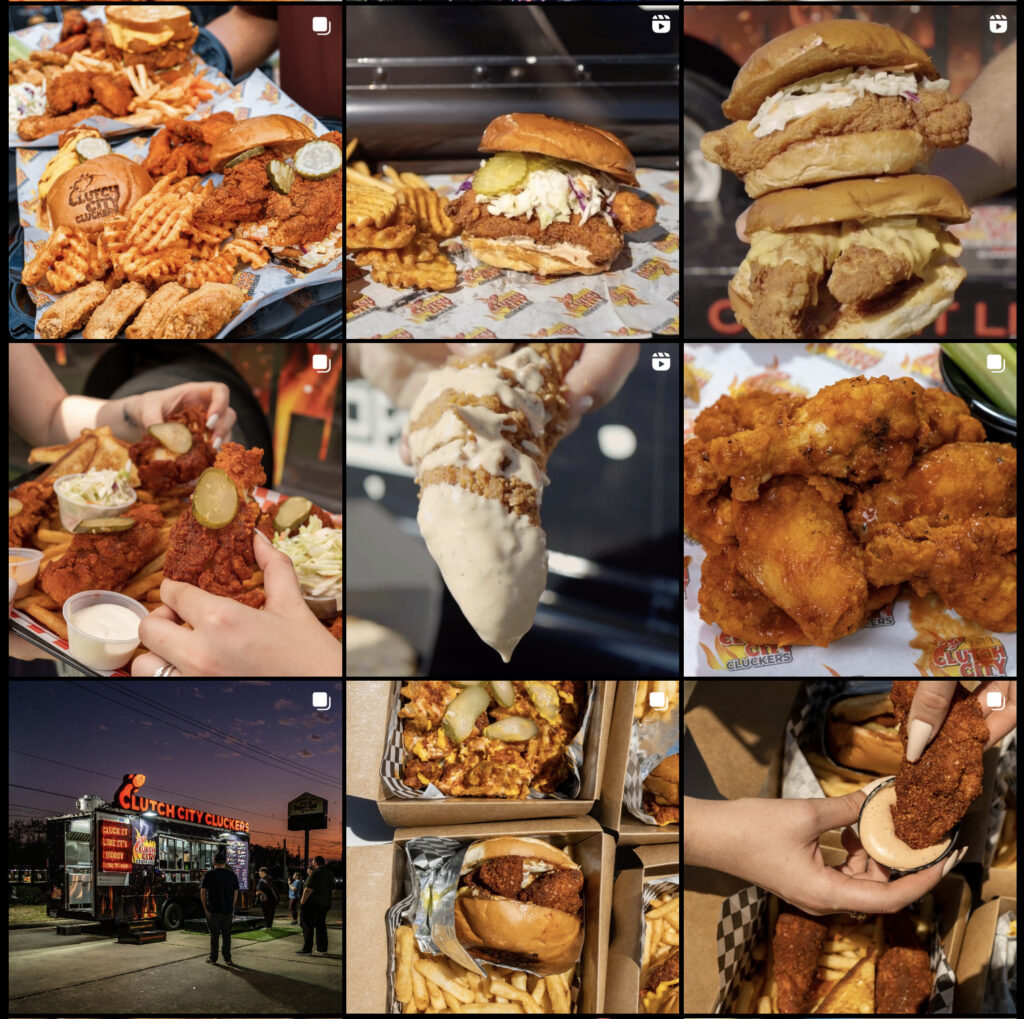 Content focused specifically on high quality photos and videos. We developed content strategy ideas to provide to the brand's 3rd party content creator. Each post was given significant weight meaning that it was to be specific in its intention. Each post was a designated "swipe" post that generally included 2-4 photos. Videos provided were strategically posted at specific times and days, or were used to promote specific areas of focus. The song choice was a crucial point in each video as the music needed to match the overall vibe of the brand and be current enough to catch the ear of potential followers.
Meta Advertising
In order to accomplish the set goal of increasing brand awareness and growing a large following on Instagram, Embark Marketing implemented an aggressive Meta strategy with a budget ranging from 5K-10K per month. Through short ad durations and location based targeting Emark Marketing was able to distribute Clutch City Cluckers content to 50,000 to 100,000 Instagram users per post.
Social Media Marketing Results
In 2.5 years, Clutch City Cluckers grew 91.8K followers across Facebook, Instagram, Twitter & TikTok. On Instagram specifically, the brand attained 75K followers, surpassing the brand's long term goal of earning over 50K followers on Instagram.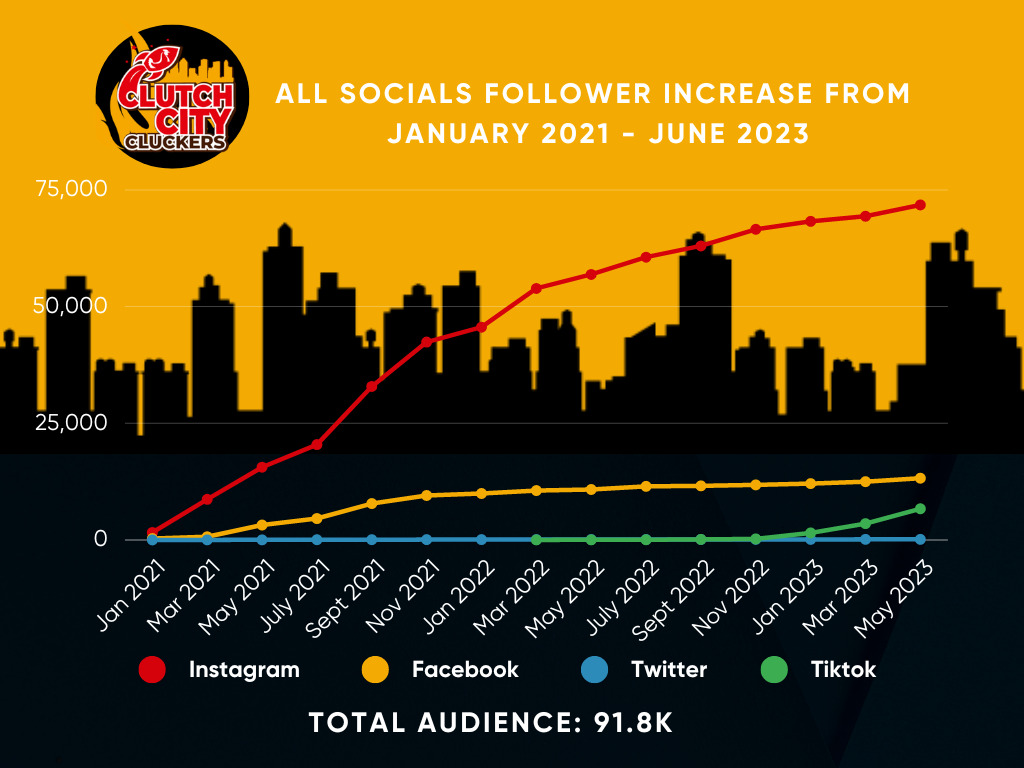 Reputation Management

In an effort to measure Clutch City Clucker's customer sentiment, we provided reputation management services. This included responding to all positive & negative reviews for every location across platforms such as Google, Yelp and Facebook. At the end of each month, we provided the client with any positive and/or negative trends we saw at each location so that we could measure how effective operations were. This was important for the brand, as their ultimate goal was to eventually franchise.
Additionally, with Clutch City Cluckers rapid growth in popularity, came a high volume of reviews daily. It was important to us that we provide reputation management on all platforms so that guests felt heard. All reviews are responded to in a timely and specific manner.
Public Relations

Embark Marketing utilized a local and regional public relations approach to help promote and create an aware audience for Clutch City Cluckers. This included strategizing public relations angles, pitching and media coordination. News pegs covered included location grand openings, international expansion, product launches, and features on the owner himself.
Influencer Marketing

Throughout the 2.5 years of working with Clutch City Cluckers we implemented several influencer marketing campaigns in an effort to help spread general brand awareness, as well as announce the grand openings of new locations, and introduce new products. Below are just a few examples of influencer marketing partnerships we garnered.
Media Buying

In an effort to expand Clutch City Clucker's brand awareness even further, we proposed the use of media buying. Some recommended strategies included paid television spots, direct mail campaigns, radio advertisements, and billboards. Below are the two media buys Clutch City Cluckers chose to implement.
Website Development
Previously the client's website was through a CMS that allowed for very few customization options and even less in terms of add-on and plugin availability & support. This presented an issue for the client as they were poised for expansion and desired a complete overhaul of their previous website to fit their new aesthetic and expansion goals. We determined that it was best to move them to a WordPress site that would allow for more customization and enable their growth to new markets, especially with their new endevor in the overseas market of Jordan.
RESEARCH AND PLANNING
In terms of our website development strategy, moving to a WordPress site for the advantage of the myriad of SEO opportunities available, give the client the customization options they were looking for, as well as set them up for long-term success in their franchising endeavors. Additionally, this move would allow us to further bolster the eatery's online visibility backed with Google Ad dollars targeted to a radius around each location. Due to the nature of the Food & Beverage industry, it was determined that focusing our allotted $1,000 per month Google Ad dollars on a 3-mile radius around each truck would be the most effective method for attracting new customers.
Our intended audience for the web project was above all else hungry potential customers for which we put an extreme emphasis on Localized SEO tactics with the implementation of keywords as well as local market competition research. With this data, we were able to raise our SERP position for the majority of the franchise locations for key food terms by incorporating keywords throughout the site, adding embedded menus, & utilizing individual location pages to ensure search engine population within targeted areas. Based on our audience data, we determined that the approach for the site should be very visual with an urban feel. Additionally, we felt it was paramount that customers be able to find their specific location and menu as quickly and efficiently as possible.
BUILDING
After the initial research and determination of goals from the client we were able to select a templent and develop copy that included keywords for each location to further bolster the localized SEO. This also included the building of pages for backlinking such as a press page as well as the implementation of specific location plugins for the site for users to locate their preferred location quickly.
In addition to regular customers, the client was also looking to add additional revenue via catering and truck rental for events. For this, we created a designated catering page with a form for customers to fill out detailing their event and/or catering requirements. Likewise, the client was also looking to highlight their franchising opportunity, for this, another page and form were created with questions specific to those inquiries. In addition, a custom email for each was issued to keep requests organized for the client as well as a tracking measure.
Additionally, we needed to be able to switch between two languages and respect two vastly different cultures in terms of design & content. For this, we initially built the site for the US market with a more urban feel and slang terms used throughout. We then we able to duplicate the site for the more conservative Jordanin market and made the necessary adjustments to ensure that the content was not offensive to the Arabic culture. This included several edits for laguage as well as specific cultural differences such as not having photography with hands on food.
RESULTS OF WEBSITE BUILD
Clutch City Cluckers now ranks on the first page of Google for keywords such as "Hot Chicken Houston" above several more established chains, raising their local online presence and increasing overall brand awareness throughout their home market. In total, the restaurant group had 21 keywords in the Top 3 position for Google as of the end of 2022.
From a consumer perspective, this gave us the opportunity to allow the client to provide their customers with a better overall user experience online as well as provide easily accessible and accurate information for each location & menu selection as well as access to their online ordering system. Callouts on the homepage allow users to quickly access these features and provide pathways for quick consumer purchasing decisions to be made.
This project's effectiveness can be measured not only in terms of functionality and user-friendliness for both the English and Arabic versions of the site, but also in the increase in web traffic with almost 200,000 impressions in the last quarter of 2022. This is attributable to the strategies for SEO implemented both on the website as well as external public relations tactics that have been capitalized on further through the implementation of a press page on the site, providing backlinks to reputable news sites which, in turn, helps to raise the clients SERP rankings.
Additionally, the client has experienced an increase in catering inquiries and franchise requests since the implementation of the current WordPress site with assistance from additional social media posts and outreach strategies. With the overseas expansion, this project also allowed the client to introduce their brand to an entirely new demographic, expanding their reach far beyond Texas and setting them up for future expansion in the Middle East.
OVERALL RESULTS
Over the past 2.5 years, Embark Marketing has been the agency of record for the Clutch City Cluckers brand providing full service marketing services. Based on the client's short term goals, we were able to assist them in opening 3-4 locations per year. In 2021, we assisted in opening Clutch City Cluckers in opening three locations, two in Houston, TX on Chimney Rock & S. Main, as well as one location in San Antonio, TX near UTSA. In 2022, we campaigned the grand openings of three more Houston locations including the Katy, Montrose & Spring food trucks.
We also provided guidance as the brand expanded internationally to Amman, Jordan to open their first brick and mortar franchise. During the first half of 2023, we assisted in opening two more locations in Houston including the Cypress & Friendswood locations. When reflecting on the brand's position today & the initial long-term goals, we feel we created widespread brand awareness throughout Texas, with a primary focus in Houston and San Antonio. We did achieve several viral videos that can be seen on their Instagram, which has garnered over 74K followers, exceeding the client's original expectations. Finally, in the most recent months Clutch City Cluckers has officially begun franchising with plans for more Texas markets in the works.
Want to see what we can achieve with your restaurant or bar? Contact us today to discuss your goals, needs, & more!