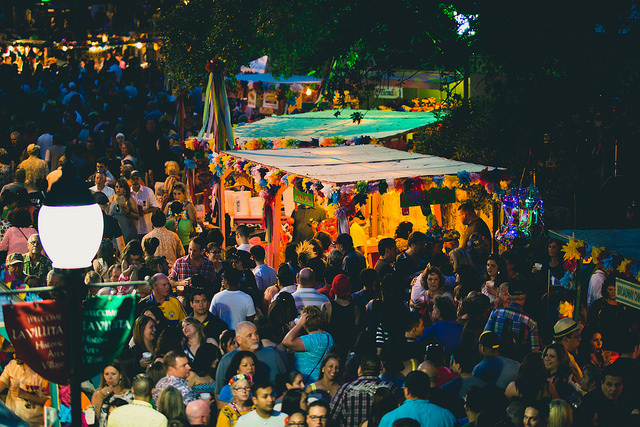 27 Mar

April Events You Don't Wanna Miss

Here at Embark Marketing, we believe it is our duty to keep the community up to date with all the awesome food events happening around the city. From large festivals to small events, you won't regret indulging in this foodie fun coming in April 2018.
1. Lantern: A Pinch Concept 
Date: Every Friday and Saturday for the first 3 weekends in April
Time: 7:00pm-9:00pm
Location: 124 North Main Avenue San Antonio, TX 78205
This Pinch Boil House and Bia Bar event introduces a new rotating concept, featuring various Asian cuisine in a unique and modern style. Tickets can be purchased for $47. To select a date and purchase a ticket, click here.
2. Crawfish Palooza II
Date: Saturday 4/07/2018
Time: 12:00pm-5:00pm
Location: 202 Lamar San Antonio, TX 78202
Pinch Boil House and Bia Bar is back and boiling over 1,000 pounds of crawfish! Come out to Alamo Beer Co. for cold beer, live music, and fresh crawfish. Tickets can be purchased for $23 here or for $25 at the door and include 1 pint of Alamo Beer, 2 pounds of crawfish, and sides.
3.  Taco Fest 2018: Music y Más!
Date: Wednesday 4/14/2018
Time: 12:00pm-11:00pm
Location: La Villita Historic Arts Village San Antonio, TX 78205
Celebrate San Antonio by enjoying tacos from over 30 vendors and music from 20+ performers! Vendors will compete in a variety of taco categories ranging from puffy to breakfast. Bring the whole family! General admission tickets start at $15 and can be purchased here.
4. Alamo Heights Night
Date: Friday 4/20/2018
Time: 5:30pm-11:30pm
Location: 4301 Broadway St San Antonio, TX 78209
As part of Fiesta 2018, San Antonio invites '09ers to celebrate the 32nd Annual Alamo Heights Night with the Rotary Club at the University of the Incarnate Word. The event will feature food from some of San Antonio's leading restaurants and caterers, as well as live entertainment.
Admission for adults is $12; ages 12-17 is $5; active duty and reserve military and children under 12 are free.
5. Oyster Bake
Date: Friday and Saturday  4/20-21/2018
Time: 6:00pm-11:00pm
Location: One Camino Santa Maria San Antonio, TX 78228
Also as part of the Fiesta celebration,  St. Mary's University Campus is hosting Oyster Bake's 102nd anniversary. Several musical groups from various genres will be providing live entertainment in addition to the full carnival and 70+ food and beverage booths available. All proceeds benefit St. Mary's scholarship funds and support the University's Alumni Association.
Admission is $20 (plus a convenience fee) for one-day; pre-sale (March 1 to 31) – $27* one-day; pre-sale (April 1 to 21) – $35* two-day; pre-sale (March 1 to April 21) – $27 at the gate; children 12 and under are free.
6. Night in Old San Antonio (NIOSA)
Date: Tuesday-Friday 4/24-27/2018
Time: 5:30pm-10:30pm
Location: 418 Villita, San Antonio, TX 78205
Tour 15 of San Antonio's most culturally themed areas in the downtown, historic arts village of La Villita.  Featuring  a variety of live entertainment,  NIOSA is the biggest fundraiser for historic preservation in the nation. Tickets starting at $12 can be purchased here.
7. Taste of the Northside
Date: Wednesday 4/25/2018
Time: 5:30pm-10:30pm
Location: 901 East Sonterra Boulevard San Antonio, TX 78258
Brighton Center brings you a taste of Northside San Antonio at The Club at Sonterra. Food from over 50 San Antonio Restaurants will be available for sampling while guests enjoy four different live music stages and a diverse beer and wine selection. All proceeds benefit the Center and help provide enriching developmental and educational services to children of all abilities. Visit the event website for shuttle information. Tickets start at $85 and can be purchased here.
Embark Marketing is a boutique marketing agency specializing in creative solutions for the food and beverage industry. To learn more about how to marketing your business, please contact us here.